The Importance of Dental Implants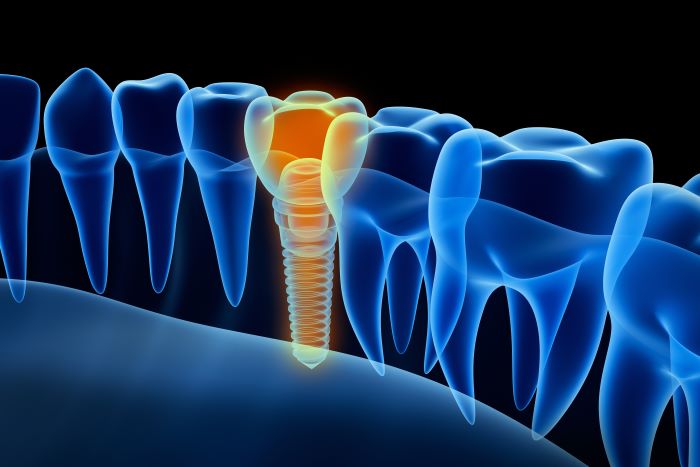 Implants are the most effective way to mimic the appearance, feel, and function of real teeth. Dental implants are used for much more than just tooth replacement. They are ideal for smile makeovers and help maintain and strengthen bone structure. Moreover, they offer the capacity to chew nutritious foods and the courage to smile. They also assist in retaining bone structure, which protects existing teeth.
Important Details About Dental Implants
When a tooth is lost, a collection of unfortunate events occur that are not immediately apparent to the patient but can have a considerable detrimental impact on health and appearance. Tooth roots keep teeth in place, but they are also crucial for the health of the gums and underlying bone structures.
One of the most serious problems when a tooth is lost, is bone loss in the jawbone. This bone loss might jeopardize the integrity and stability of surrounding tooth roots and dental bonding. Furthermore, it contributes significantly to the "sunken" appearance observed in patients who have lost some or all of their teeth.
Denture wearers discover that their dentures become increasingly difficult to fit and maintain in place over time. This is where cosmetic dentistry and dental implants or crowns can help you, and your professional Lewiston Clarkston dentist can help you lessen the damage done to your teeth and teeth whitening.
Dental implants can stimulate bone development in the region surrounding the implant, which not only reinforces the bone and provides support but also helps to improve the sunken appearance that can result from jawbone erosion. This is called osseointegration, and it is a key advantage of implant placement since it can prevent any future periodontal disease.
Getting Dental Implants
Dental implants have established themselves as the gold standard for tooth replacement. They offer high-quality replacement teeth with a sturdy, solid, long-lasting base. They can restore almost all the previous biting strength and potentially stop or repair jawbone loss. Dental implants, like any other dental operation, are not for everyone. Before beginning, the dentist will evaluate your present dental and physical health. Those with underlying health problems like diabetes or hypertension should get them under control before undergoing oral surgery. Furthermore, people who require additional dental operations such as fillings or root canals must have these completed first. Furthermore, if you have substantial jawbone loss, your Lewiston Clarkston dentist may need to do bone grafting before proceeding. They'll tell you if you're a good candidate for dental implants and what you need to do before the procedure.
Benefits of Dental Implants
When one or more teeth are missing, you're more likely to have low self-esteem. Worse, you might jeopardize your dental health. However, dental implants offer a remedy for lost teeth. Many people are discovering the advantages of dental implants.
According to the American Academy of Implant Dentistry, 3 million Americans have dental implants. According to Dr. Joe Schmidt, your Lewiston Clarkston dentist, here are three essential reasons for dental implants.
A gap is left behind when a tooth is lost, contributing to bone loss. Due to regular stress and mouth forces, the teeth closest to this leftover gap begin to move. As a result, your normally straight and healthy teeth slant and become unstable. This condition might result in additional bone loss and tooth loss. You can avoid these problems by using dental implants to fill up gaps.
Among the most important reasons for dental implants is that such implants help you chew food correctly. You could chew food the same way you would if you had your natural teeth with dental implants. The better your meal is digested, the more nutrients you will receive.
Dental implants are vital for their health advantages and their ability to boost your self-esteem. It's easy to feel self-conscious about your looks and avoid smiling when you have missing teeth. However, after receiving dental implant therapy and a smile makeover, you might begin to feel better about your appearance.
Types of Dental Implants
Dental implants aid in the preservation and strengthening of bone structure. This implies they do a lot more than restore a tooth. They also assist in retaining bone structure, which protects existing teeth. Dr. Joe Schmidt, your Lewiston Clarkston dentist might offer the following types of dental implants.
• Single Tooth Dental Implants
A single dental implant can easily support a singular dental crown. A sliver of biocompatible titanium is placed into the jawbone during a small oral surgery operation. It's covered with a recovery cap or cover screw and left to heal for many weeks before fusing with the bone. The healing cap or cover screw is next removed, and the implant is connected to a custom-made crown with an abutment.
• Implant-Supported Bridges
You can easily replace three or more lost teeth in a row with an implant-supported bridge. The bridge is supported by dental implants on both ends, maintaining the original teeth. This renovation is both practical and natural-looking.
• Implant-Supported Dentures
A detachable denture can be strengthened and stabilized with just two dental implants. A full arch of fixed, high-quality restorative or cosmetic dentistry can be supported by just a few implants. Traditional dentures, which are prone to sliding and pinching and only restore a portion of biting power, are deemed inferior to these methods.
• All-on-Four
The All-on-Four procedure is a one-of-a-kind dental implant procedure for patients missing all of their teeth on one arch. The dentist can put a specific set of dental restorations using only four dental implants during the same session. Moreover, you will not need to wear a partial denture during the healing phase.
• Guided Implant Placement
Smart technology is utilized to build unique surgical guidance with this method. These instructions control the precise placement of each implant or crown, including the angle, depth, and position. The employment of a guide improves the procedure's precision, efficiency, security, and consistency.
The Crux
Although a gorgeous smile and the peace of mind that comes with it are vital, dental implants are also beneficial. Implants and veneers are an important answer for repairing and preserving dental health, whether one tooth or numerous. Your dentist in Lewiston can help you recover your dental health without issues.
If you desire to learn more about dental implants, don't hesitate to contact us today so we can schedule an informative appointment for you with Dr. Joe Schmidt! Our dedicated dental team at Canyon Dental looks forward to speaking with you.
Please login to publish a comment.
Comments (0)