What Treatments Are Considered Cosmetic Dental Treatments?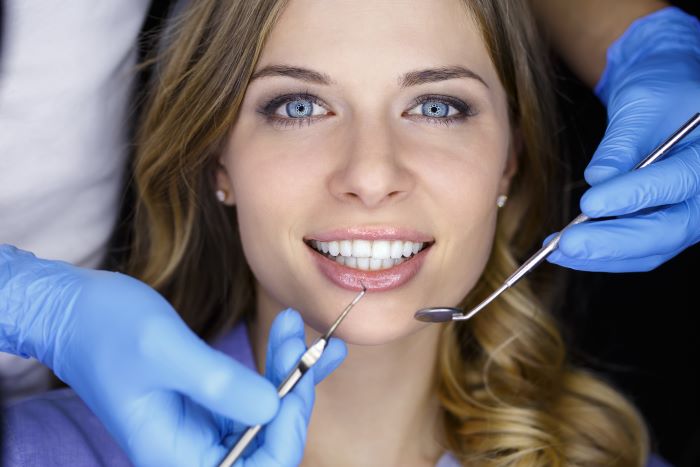 When it comes to dental treatments and procedures, all of them can be classified into a few different groups. These include preventative, restorative, routine, or cosmetic. With regard to functionality, there can be some overlap between these groups, which can sometimes make it difficult to classify which treatments are considered cosmetic dental treatments and which ones aren't. Canyon Dental specializes in a wide array of dental procedures, including cosmetic treatments. This helpful list can clarify for you which treatments fall under the classification of "cosmetic."
Common Cosmetic Dental Treatments
Here are some of the most common cosmetic dental treatments that Dr. Joseph Schmidt and his valued dental team offer at Canyon Dental.
Teeth Whitening
One of the most common cosmetic dental procedures that we perform is teeth whitening or bleaching. During this procedure, we use chemicals to help whiten the surface of teeth, thus giving you a brighter smile. Teeth whitening can be a very beneficial treatment if you've experienced any discoloration from age or from consuming things like tea, coffee, soda, cigarettes, and even some medications. Dr. Schmidt recommends whitening your teeth before undergoing other cosmetic treatments so your tooth enamel will match the shades of the restorations.
Veneers
Veneers are thin pieces of porcelain that are fitted over top of your teeth to improve their appearance. Veneers can be used to alter the color, size, and shape of your teeth, and are very long lasting. Sometimes being fitted for veneers involves shaving or shaping your existing teeth to fit the veneers snugly. Veneers are great for helping improve the appearance of your smile if you have crooked, unevenly spaced, discolored, or chipped teeth.
Bonding
The procedure of bonding involves putting tooth-colored material between the teeth to fill in any visible gaps or repair any chips. Typically, this is a very fast procedure that only requires one visit, and the results are very long lasting— up to several years with proper care! Bonding most often doesn't require anesthesia or sedation.
Teeth Straightening
A lot of people are born with crooked teeth that they wish to correct into a straighter smile. Luckily, teeth straightening is a common cosmetic dental treatment that can help you achieve your dream smile. This process can be done for people of any age, as long as they have their adult teeth.
Typically, patients are encouraged to choose between two methods for teeth straightening. One choice is traditional braces, which many young people get during adolescence. Braces help reposition your teeth to sit straighter in your mouth. Braces are visible to the eye and require occasional visits to adjust and track their progress. Another option to consider is Invisalign, which is a clear alternative to braces. Invisalign works by having the patient constantly wear their clear Invisalign retainer (except when eating). Over time, you switch between retainers that are straighter and straighter with each progression. This allows your teeth to be straightened gradually. Typically, Invisalign tends to be the pricier option of the two but doesn't take as long to see results.
Teeth Replacement
Teeth replacement is another cosmetic procedure you can get at Canyon Dental. This treatment allows us to replace any missing teeth. This is usually achieved with dental implants, which are surgically implanted into your mouth. Teeth replacements blend in seamlessly with the rest of your teeth, making it impossible for anyone to discern which teeth are real and which are fake.
Crowns
Crowns are placed over top of teeth as covers to enhance or change the appearance and shape of a tooth. These are very long lasting— one of the longest lasting procedures we offer. Crowns can be used as an alternative to veneers.
Enamel Abrasion
Another cosmetic dental treatment is enamel abrasion. This treatment is an alternative to chemical teeth whitening and is a good option for removing tooth discoloration. During this procedure, your dentist will use a fine pumice stone attached to a machine called a micro-abrasion machine. Your dentist will essentially sand down the very top layer of your teeth— where the discoloration is located. This helps remove stains that are only superficial (on the surface). It is not a good option for stains that permeate more deeply into the tooth.
These are only a few of the most popular treatments we offer at Canyon Dental. Cosmetic dentistry is a great way to build your confidence and achieve the smile you've always dreamed of. Often patients are unsure of which procedures they could benefit from. This is one of the reasons why you should schedule a consultation with one of our friendly team members to help discover which treatments are the best options for you.
How To Choose a Cosmetic Dentist
Choosing the right cosmetic dentist is important for achieving the results you dream of. Here are some things to consider that can help you choose the right cosmetic dentist for your needs.
Proof of Education
All practicing dentists should be able to provide satisfactory proof of education upon request. Visiting an untrained dentist is dangerous (even if it's cheaper). Instead, you should always check your prospective dentist's credentials before undergoing any treatments by them. Consider Dr. Joseph Schmidt as your cosmetic dentist, as Dr. Schmidt received his Doctor of Dental Surgery degree from Creighton University, in Omaha, Nebraska.
Check References
If you weren't referred by someone you know, check online to see what other people thought of their experience with a particular dentist. This can also help you come up with a list of questions to ask during your first visit.
Look at Photos
Many cosmetic dentists have a whole slew of before and after photos to show prospective clients. These will show the professionalism and beauty of their work and can help you imagine what your results will look like and decide if a dentist is the right fit for you.
The team at Canyon Dental is passionate about helping all of our patients smile more brightly and more confidently with the help of cosmetic dental treatments. Contact Canyon Dental to learn more and find out which treatments may be right for you.
Please login to publish a comment.
Comments (0)